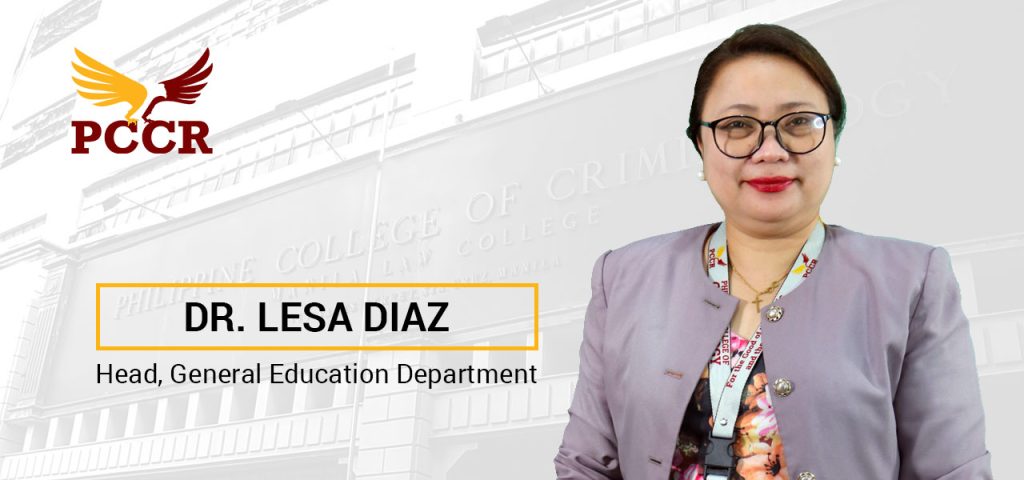 As a testament to its drive for Quality Education and Leadership, The Philippine College of Criminology (PCCR) recently improved its academic line-up with the addition of its new General Education Head Dr. Lesa Diaz. With more than 20 years of academic leadership experience, Dr. Diaz is always up to the task and the challenge of training young bright minds.
"Educational Leaders should be active enough to look ahead and think of improvements in the learning environment" says Dr. Diaz. As a vision-oriented leader, She believes that Education is a continuous process of learning, inspiration, and encouragement.
Under her guidance, she hopes to be able to inspire and motivate her faculty to provide excellence and quality in delivery of lessons. She aims to focus on the use of Instruction to deliver Quality Education to the students of PCCR. With this drive, she also hopes that the students will eventually imbibe the core values of Leadership, Excellence, Accountability, Discipline, Empathy, Respect, Service, Humility, Integrity, and Perseverance.
Prior to joining the 641 Sales Street-based Community, Dr. Diaz spent most of her academic days in various leadership roles. Aside from being a longtime English Teacher and Professor, She also served as Principal, Discipline Coordinator, Researcher, School Director, and Human Resource Consultant in different schools in the country. Aside from Academic life, she also serves as a Research Panelist, as well as Resource Speaker for topics such as Teaching Strategies, Discipline and Anti-Bullying, Classroom Management, Lesson Planning, and Customer Service.
Ever the learner, Dr. Diaz is also a student of Law in the Manila Law College.