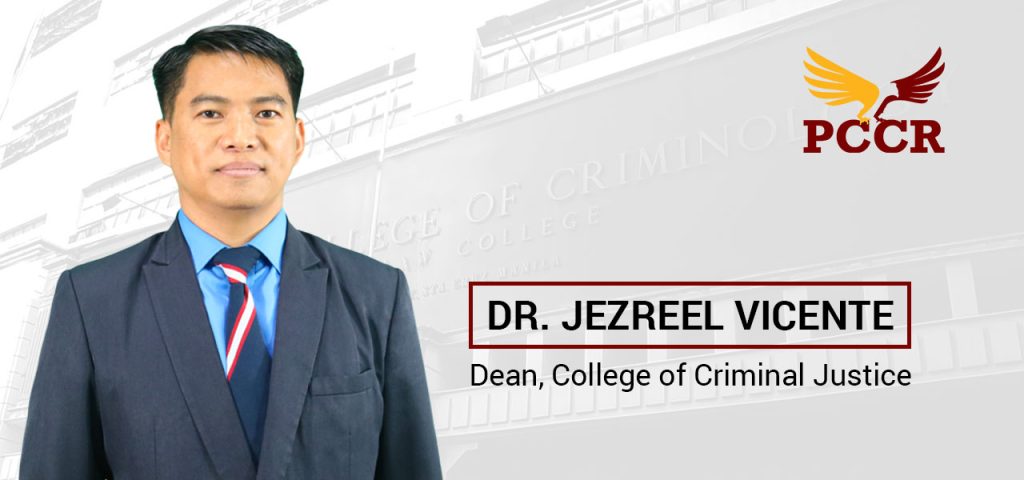 Reflecting the core values of Leadership, Excellence, Discipline, and Service, Philippine College of Criminology (PCCR) Alumnus Dr. Jezreel Vicente (Ph.D. Criminology 2010) was recently appointed as the Dean of the College of Criminal Justice (CCJ). As head of the Criminology Program and its new allied courses (BS Forensic Science and BS Industrial Security Management), Dr. Vicente aims to further strengthen the PCCR brand of education to establish an unrivaled Quality Education Program and Center of Excellence. 
Dean Jezreel considers it a privilege to return to his Alma Mater after over a decade. He sees an exciting opportunity to help Batang 641 Criminology Students spread their wings in the Law Enforcement arena, much like that of the serpent eagle as depicted in PCCR's brand. He was also attracted to the passion and desire of the new PCCR management for positive change to happen to the school. Though he acknowledges this change is not an overnight affair, he's excited and determined to climb every step of the ladder.
As Dean, Dr. Vicente hopes and vows to help the school reclaim its rightful position as the leading Criminal Justice Education Program in the Philippines. Beginning with the school's state-of-the-art Crime Laboratories, together with the modern, one-of-a-kind Firing Range, Dean Jezreel aims to ensure quality services for PCCR students toward their academic and personal development, eventually producing knowledgeable, skilled, and disciplined future leaders.
Prior to taking on the position of Dean, Dr. Vicente held various leadership positions in different Higher Education Institutions. On February 26, 2022, Dean Jezreel was awarded with distinction in the Academe/Research and Development Category for the 9th Philippine Federation of Professional Associations (PFPA) held at the UP Bahay ng Alumni.
Excited for the future of the PCCR Criminology Program, and the successful introduction of the Forensic Science and Industrial Security Management courses, Dean Jezreel claims "the best is yet to be. If we put our mind to it, we can achieve it."