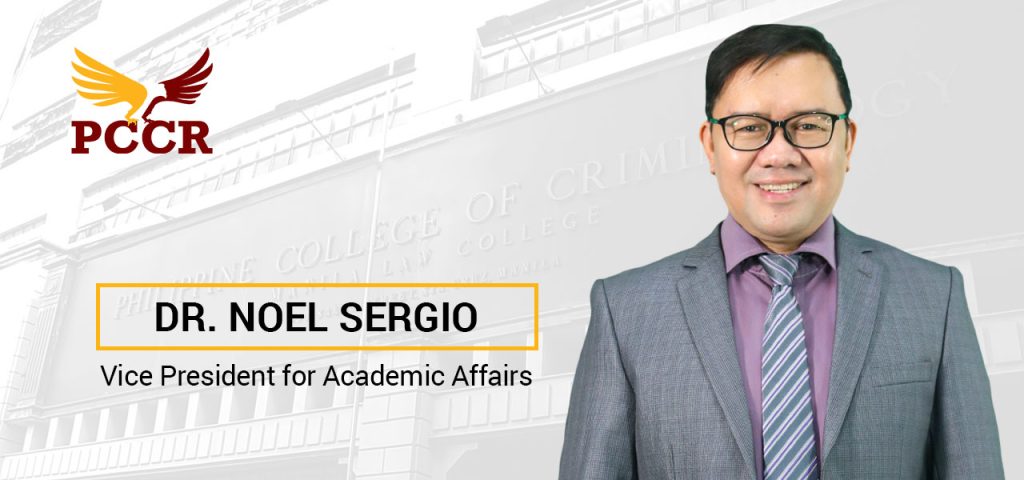 Reflecting its current Foundation Day Theme of "Reaching Greater Heights through Transformational Education", The Philippine College of Criminology (PCCR) continues to strengthen its academic core with the addition of its new Vice President for Academic Affairs (VPAA) Dr. Noel Sergio. With this new challenge, Dr. Sergio hopes to be able to establish a culture of excellence, not just for the students as they head off into their professional careers, but also for the teachers to ensure that the products of PCCR continue to excel on a regular basis.
In his first time handling a Criminology Program, Dr. Sergio saw an exciting opportunity to share his expertise in building programs and attaining accreditation and certification statuses. He believes it is his duty and obligation to take on that challenge head on, and to make the PCCR brand synonymous to greatness.
As the top executive in the Academics field, Dr. Sergio aims to drastically improve the teaching and learning process, as well as the delivery of instruction in PCCR. By setting the bar a few notches higher, he hopes to produce and reproduce topnotchers in the Licensure Examinations for Criminologists (LEC), further developing the PCCR Criminology Program into a Center of Excellence in the said field.
Prior to joining the PCCR Community, Dr. Sergio was the Vice President for Administration for another Manila-based Higher Education Institution. Having had more than 20 years of academic experience, he has held many different positions including Registrar, Marketing Consultant, Linkages and Networking Director, Guest Lecturer, and a College Dean for Undergraduate and Graduate School.