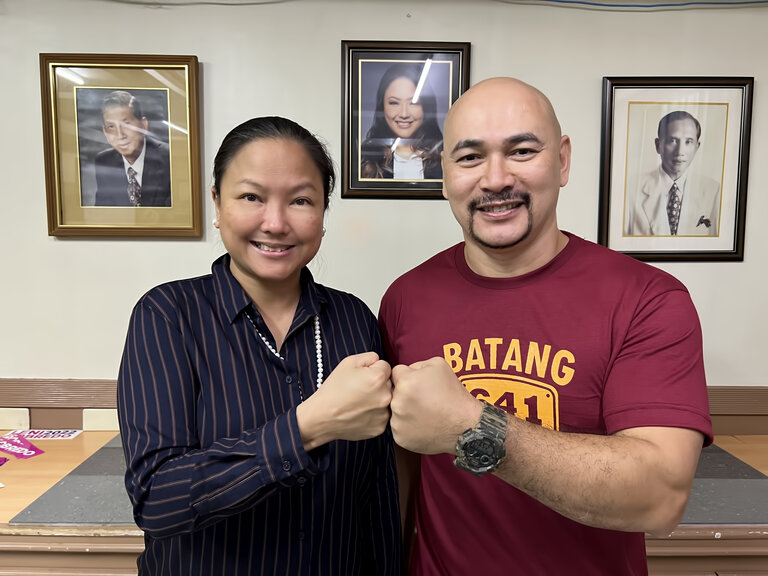 After a long absence from the Batang 641 Community, Philippine College of Criminology's (PCCR) former Basketball Head Coach Gene Roland "Bang" Tumapat is coming back home to Sales St. to bring back the team to its former glory. This time around, however, he will be following the footsteps of his father, former PCCR Sports Director Rolando Tumapat, as he takes the reins of the Athletics program as its director.
Coach Bang claims that he has a lot of ground to cover, since he'd need to start everything anew. He says he would need to reestablish the development system, where the athletes' skills are honed in High School, and further developed in College. This "farm team" system and culture is what helped him win his many championships with PCCR.
As head of the PCCR basketball program before he left, Coach Bang established the High School, Women's, and Men's teams as champions in many different leagues for almost twenty years. Beginning with the Colleges and Universities Sports Association (CUSA) in the '90s, he led the High School Team to an incredible nineteen consecutive championships. The team remained the best overall in any league they joined, even after transferring to the Philippine Interschool Colleges and Universities Athletics Association (PISCUAA) in 2012, and then the Universities and Colleges of Luzon Athletic Association (UCLAA) in 2014 before his departure the following year.
The Men's and Women's Basketball Teams would benefit from this solid foundation, winning multiple times themselves. The Men's Team won four straight years, while the Women's team had a total of six championships under Coach Bang.
A true blue Batang 641, Coach Bang also played for PCCR from 1989 to 1991. After his playing years, he was asked to coach the High School Basketball Team, in hopes of establishing a winning system and culture for the Sales Street squad. Winning would not come easy for Coach Bang, as he had to endure a winless first year as coach of the team. After a few years of experience, he would gradually lead the PCCR Team out of the cellar and into the roster of winners. Once he led the PCCR High School team to the Championship in 1997, there was no looking back.
Now, as Athletics Director for PCCR, Coach Bang looks to lift the school's sports program to great heights. He makes no promises as to when and where, but as he has done for more than twenty years, he likes to let his work and results do the talking for him.