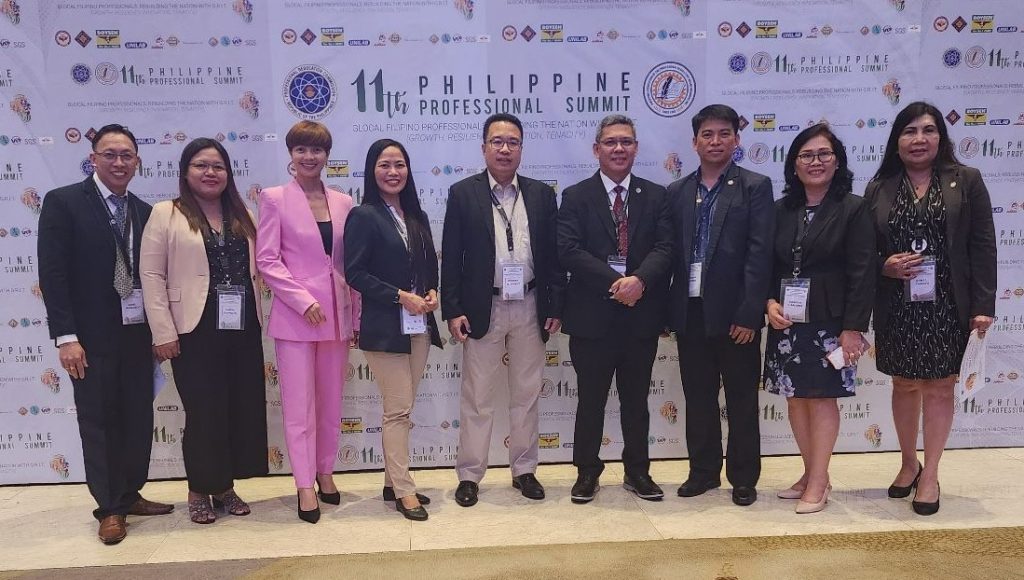 In line with its thrust toward Continuous Improvement and to provide Outcomes-based Quality Education, Philippine College of Criminology (PCCR) sponsored the 11th Annual Philippine Professional Summit presented by the Philippine Association of the Professional Regulatory Board Members, Inc. (PAPRB) and the Professional Regulation Commission (PRC) at the Manila Hotel held on October 17-18, 2022. PCCR Alumnus, PAPRB Executive Vice President, and PRC Board of Criminology Chairman Atty. Ramil G. Gabao (BS Criminology 1983, MS Criminology 2007, Ph.D. Criminology 2018) served as the Overall Committee Chairperson for the momentous event. 
Together with Chairman Gabao, the members of the Professional Regulatory Board of Criminology are also proud PCCR alumni. Hon. Warren M. Corpuz recently finished his Ph.D. in Criminology (Batch 2022), while Hon. Lani T. Palmones (Ph.D. Criminology 2011) and Hon. George O. Fernandez (BS Criminology 1979) are both also proud Batang 641.
Entitled "Global Filipino Professionals: Rebuilding the Nation with GRIT(Growth, Resiliency, Innovation, Tenacity)", the two-day hybrid modality summit credited its attendees with 15 Continuing Professional Development (CPD) units. This began with a formal declaration of opening delivered by Atty. Gabao, which was immediately followed by welcome remarks from PAPRB President and PRC Board for Professional Teachers Member Dr. Paraluman R. Giron. Inspirational Messages from PRC Commissioners Atty Erwin M. Enad and Dr. Jose Y. Cueto, PRC Chairperson Atty. Charito A. Zamora, and Department of Labor and Employment (DOLE) Secretary Hon. Bienvenido E. Laguesma then followed right after. Senator Mark Villar also delivered his Keynote Address prior to the different plenary sessions. Prior to the second day's plenary sessions, Technical Education and Skills Development Authority (TESDA) Director General Hon. Danila P. Cruz gave his Keynote Speech.
Attending on behalf of PCCR were College of Criminal Justice (CCJ) Dean Dr. Jezreel B. Vicente (Ph.D. Criminology 2010), Program Chair for Criminology Dr. Gaypelyn M. Casiw (MSCJ 2015, Ph.D. Criminology  2019), and CCJ Faculty Mr. Victor Jim Fallar. Other PCCR Alumni present were Dr. Ariel Manlusoc (Ph.D. Criminology 2011), Orominds Review Center CEO Dr. Nanette Caño (Ph.D. Criminology 2009), Naga College Foundation Dean Dr. Marilyn Balares (Ph.D. Criminology 2006), and; Dr. Ruby Tamayo, Holy Trinity College of General Santos City Dean (Ph.D. Criminology 2006)