Adding yet another integral ally toward Quality Law Enforcement Education in the country, Philippine College of Criminology (PCCR) recently signed a Memorandum of Agreement (MOA) with the National Bureau of Investigation (NBI) on October 24, 2022 at the NBI Main Office in Quezon City. This renewed partnership between the country's leading authority in investigative and forensic services and the pioneer educational institution for Criminal Justice in the Philippines and Southeast Asia provides a better avenue towards transforming the lives not just of the Batang 641, but of their respective communities, and the country.
Proud Batang 641 and NBI Personnel Division Chief Roland Demetria (MLC 1998, MSCJ 2019, PhD Crim 2022) facilitated the MOA signing as the Master of Ceremonies. He opened the program with an introduction of the NBI Directorial Staff present, beginning with NBI Director Atty. Medardo G. De Lemos, Deputy Director for Administration Atty. Antonio M. Pagatpat, Deputy Director for Operations Atty. Jose Justo S. Yap, Assistant Director (AD) for Human Resource and Management Service Atty. Leo Edwin D. Leutero, AD for Comptroller Service
Vicente A. De Guzman III, AD for Investigation Service Jose D. Doloiras, AD for Information and Communication Technology Service Victor V. Lorenzo, AD for Legal Service Atty. Rustico Q. Vigilia, AD for Intelligence Service Roel S. Bolivar, AD for Forensic Science Research Service Dr. Romel T. Papa, Chief of Staff Atty. Cesar A. Bacani, and Chief of Training Division Atty. Auralyn L. Pascual.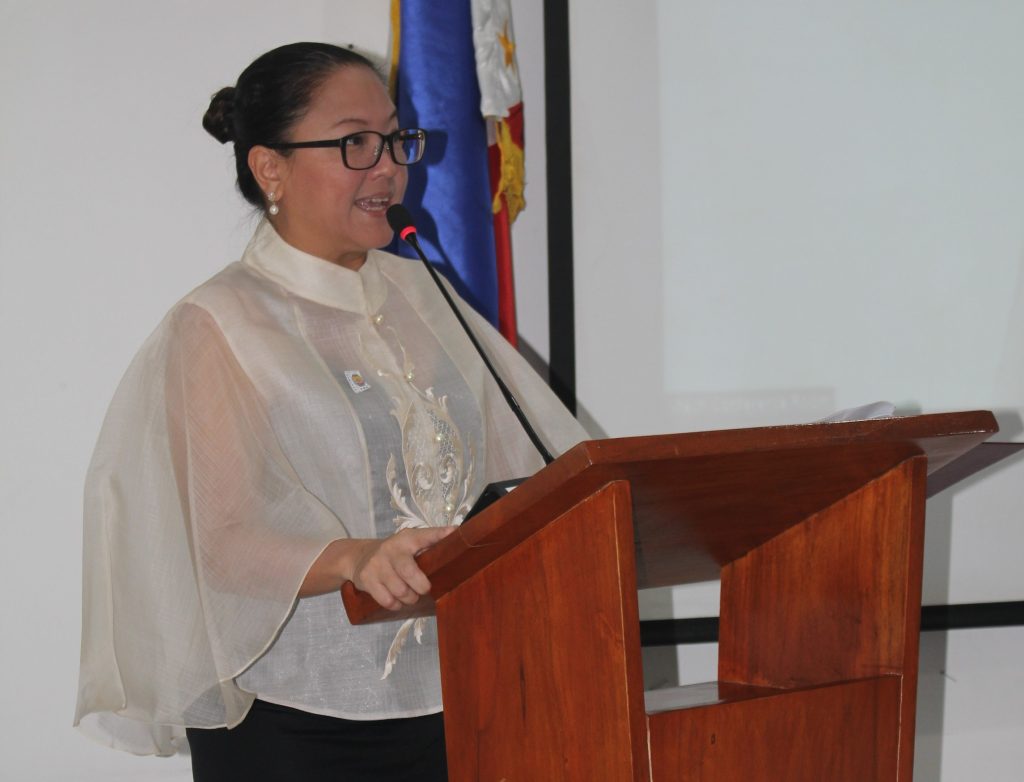 PCCR President Ma. Angelica Lei G. Bautista led the PCCR delegation, accompanied by Executive Vice President Karim L. Bangcola, Vice President for Academic Affairs Dr. Noel A. Sergio, College of Criminal Justice Dean Dr. Jezreel B. Vicente, Student Affairs and Services Director Romeo Jose Taganas, Alumni Affairs Head Dr. Joaquin De Castro II, Research Head Joseph Porfirio Andaya, Student Experience Head and Marketing OIC Eduard Solomon, Business Development Head Jose Mari Melad, and Corporate Communications Officer Juan Carlos Zozobrado.
In her inspirational speech, PCCR President Lei Bautista expressed her excitement toward this renewal of collaboration between NBI and PCCR, which has been ongoing for more than a decade. She also highlighted that this endeavor will open doors toward equal improvement and opportunities for the other law enforcement agencies in the country.
The renewed mutually beneficial relationship between PCCR and NBI aims to further improve the quality of Criminology Education with On-the-job Training and Internship opportunities for Batang 641, Agency Visits to enhance student knowledge about the bureau and its expertise, as well as Seminars and Trainings where students get to learn firsthand the proper investigative and forensic skills. NBI officers and agents will also be invited as Guest Lecturers to further enhance the student experience and journey, together with Research Collaboration and Undertaking with PCCR Faculty and Students.
As part of the MOA, NBI Employees and their respective dependents will also be provided with education discounts toward completion of any of PCCR's educational programs. Five scholarships will be given toward enrollment in the High School Department, and another five each toward enrollment in the College and the Graduate School. Another five scholarships will also be given to the personal nominees of NBI Director De Lemos.