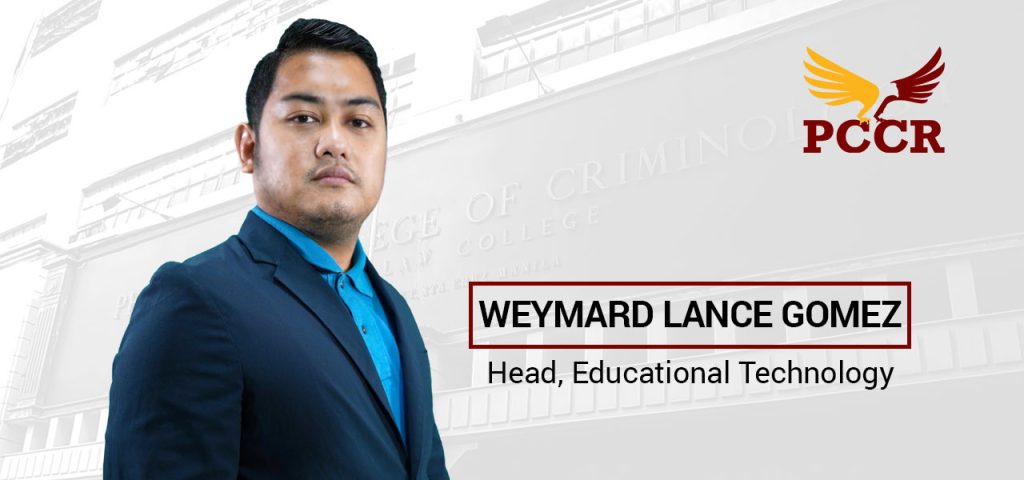 True to its vision of being a globally recognized center of excellence and a leader in innovative programs, Philippine College of Criminology (PCCR) recently added another advocate of digital education and literacy with the hiring of its Education Technology (EduTech) Department Head Weymard Lance Gomez. Having been in the IT profession in various capacities with different companies, Lance has brought his leadership and technical experience to PCCR as part of the school's ongoing digital transformation.
Over the course of his career, Lance has had extensive experience in the field of IT. From starting out in Technical Support and moving up as a Network Infrastructure Engineer, he also handled Customer Experience Audit, Systems Integration, and Network Security. He also served as IT Consultant for a Japanese company, implementing their quality management system and ISO standards.
According to Lance, Leadership and Excellence in your field do not come with age, but with experience and action. At a young age of 32 years old, he has already established himself as a leader of the IT industry. As such, he also hopes to inspire the young professionals to excel in their chosen professions, and to be the best at what they do.
With all his IT experience in different industries, Lance has always believed that educational institutions such as PCCR should be ahead of all other companies in terms of knowledge and skill. According to him, schools produce the professionals that work in the different industries, so they should be equipped for the corporate world as soon as they graduate from their respective educational institutions.
It is this drive for quality education that led Lance to come to PCCR. With the IT Division under his wing, Lance wants to make sure they are not just there to ensure proper internet connectivity, but actually deliver solutions through technology. Under his leadership, he aims to provide proper training to the IT personnel so that in turn, they can maximize and optimize the school's digital resources toward innovation and learning. With Lance among PCCR's new leaders, he also wants to help the school to excel in terms of Cybersecurity.
Ever forward-looking, Lance hopes to be able to automate and digitize most, if not all, of the school's processes and documents. With the utilization of blockchain technology and Non-Fungible Tokens (NFTs), Lance aims to streamline the school's operations toward a better overall customer and student experience.