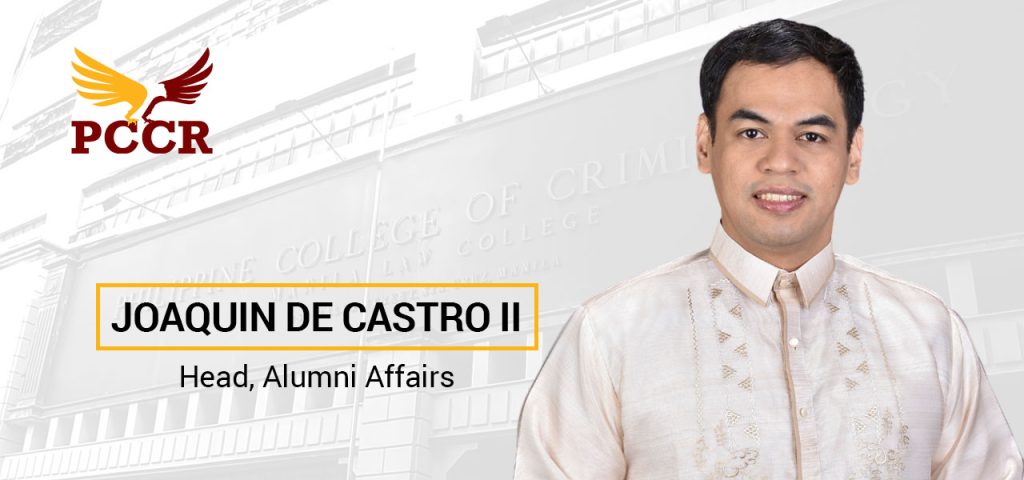 In the interest of continuous quality education and services through a more dynamic leadership team, Philippine College of Criminology (PCCR) recently appointed alumnus and long-time Batang 641 Joaquin De Castro as its new Alumni Affairs Department (ALU) Head. Having been a product of PCCR and Manila Law College (MLC) himself, Jake (as he is known by his friends and colleagues) is familiar with the  renowned identity of the Batang 641 in Law Enforcement, as well as in Safety and Security Services, and hopes to bring back the PCCR name to its former glory as the pioneer school in Criminal Justice education.
With his appointment to head the ALU, Jake aims to establish a better homecoming haven for PCCR Alumni in the College. He plans to reform the office and encourage PCCR graduates to return to their alma mater and inspire future generations of Batang 641 to spread the values and vision of the college. Furthermore, he also plans to map out how his office could build more harmonious relationships between the PCCR and its graduates. Jake aims to build the ALU as a center of service with the PCCR alumni community, helping them find employment, receive financial assistance, secure quality education for their dependents, and other concerns.
Jake's heart for service stemmed from what was instilled in him as a product of PCCR. His passion for service and desire to give back to the school community drives him to help the College regain its proud reputation as the top choice for Criminal Justice education.
Having graduated with a Bachelor of Laws at the MLC and Ph.D. Criminology at the PCCR Graduate School, Jake has also served in PCCR in various capacities, rising from the ranks from Legal Assistant to Discipline Investigation and Security, and as Discipline Officer under the Student Affairs and Alumni Services prior to being appointed as head of the ALU.