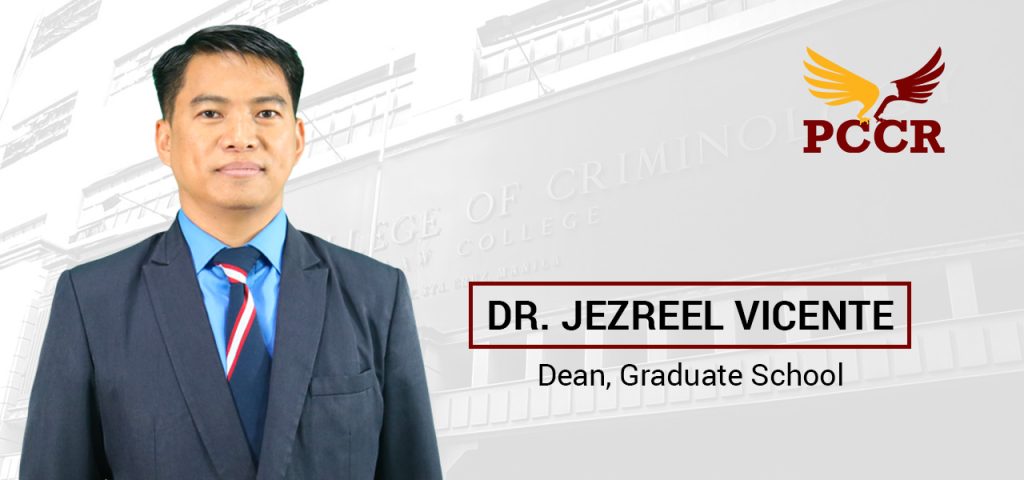 Reflecting the core values of Leadership, Excellence, Discipline, and Service, Philippine College of Criminology (PCCR) Alumnus Dr. Jezreel Vicente (Ph.D. Criminology 2010) was recently appointed as the Dean of the Graduate School (GSC). As the former head of the College of Criminal Justice (CCJ), Dr. Vicente aims to further strengthen the PCCR brand of education to establish an unrivaled Quality Education for Master of Science in Criminal Justice (MSCJ) and PhD in Criminal Justice/Criminology programs. 
Dean Vicente is a renowned Criminologist in the Philippines. He specializes in Forensic Science, leadership and management. He is a renowned national lecturer of Criminalistics/Forensics in various schools and review centers across the country. He also serves as Guest Faculty Member in different law enforcement educational institutions. Dean Vicente teaches forensic investigation to police, fire and jail personnel enrolled in their investigation courses (PSIDC, PSTIC, PSNIC, PSDFIC) at the National Forensic Science Training Institute (NFSTI), National Fire Training Institute (NFTI), and Philippine National Police Training Institute (PNPTI). He is also a graduate of Digital Forensic Investigation Course (DFIC) Class 2021-01 at the BFSTI, Camp Vicente Lim, Calamba City, Laguna.
Despite his distinguished profile and credentials, he considers it a privilege to return to his Alma Mater after over a decade. Having started with an exciting opportunity to help Batang 641 cCriminology sStudents spread their wings in the lLaw eEnforcement arena in the CCJ, he now sees an equally exciting avenue at the GSC to produce top-caliber leaders, much like that of the serpent eagle as depicted in PCCR's brand. He shares the passion and desire of the new PCCR management for positive change to happen to the school. Though he acknowledges this change is not an overnight affair, he's excited and determined to climb every step of the ladder.
As GSC Dean, Dean Vicente hopes and vows to help the school maintain its rightful position as the leading graduate school institution in the Philippines. With the quality of education provided by the pioneer school of Criminology in the Philippines, Dean Jezreel aims to ensure quality services for PCCR Graduate School students toward their academic and personal development, eventually producing knowledgeable, skilled, and disciplined future leaders.
Prior to joining PCCR, Dean Vicente held various leadership positions in different Higher Education Institutions serving as Dean, Program Chairperson, Coordinator and Head of Units as well as faculty member. He is a certified criminalistics specialist, certified security professional, certified security management specialist, certified security trainer.
Dean Vicente received the following major awards: 2022 Distinguished Professional in the academe category by the Philippine Federation of Professional Associations (PFPA), 2021 National nominee as Outstanding Professional of the Year Award (OPYA) by the Professional Regulation Commission (PRC), 2020 Outstanding Criminology Educator (OCE) and Excellent Service Award (ESA) by the PCAP; 2018 Top Performer in the Teaching Category at the University of Baguio; 2018 Distinguished Service Award and Outstanding Educator by the PCAP; 2016 Outstanding Criminologist in the Cordillera Region. He also received numerous awards and recognitions from different law enforcement agencies as an active faculty member and as a member of advisory council.
As to the field of criminological research, he was able to present international papers in Penang State, Malaysia and Cebu City, Philippines. He published at least 12 research articles in the international online journals and authored at least 10 criminological books and manuals. Dean Vicente is a veteran member of thesis/dissertation committees serving as adviser, panel member and chairperson of the panel of different criminology schools including the Philippine Public Safety College (PPSC) and National Police College (NPC). He is serving as adviser of Public Safety Officers Senior Executive Course (PSOSEC) students in the National Police College (NPC) and National Jail Management and Penology Training Institute (NJMPTI).
Dean Vicente is building a pool of competent faculty members of PCCR Graduate School to cater the 422 masterate and doctorate students of the institution. Dr. Vicente claims that the 422 is so far the highest number of MS and PhD Crim students in the entire Philippines.
Excited for the future of PCCR Graduate School, Dean Vicente claims "the best is yet to be. If we put our mind to it, we can achieve it."