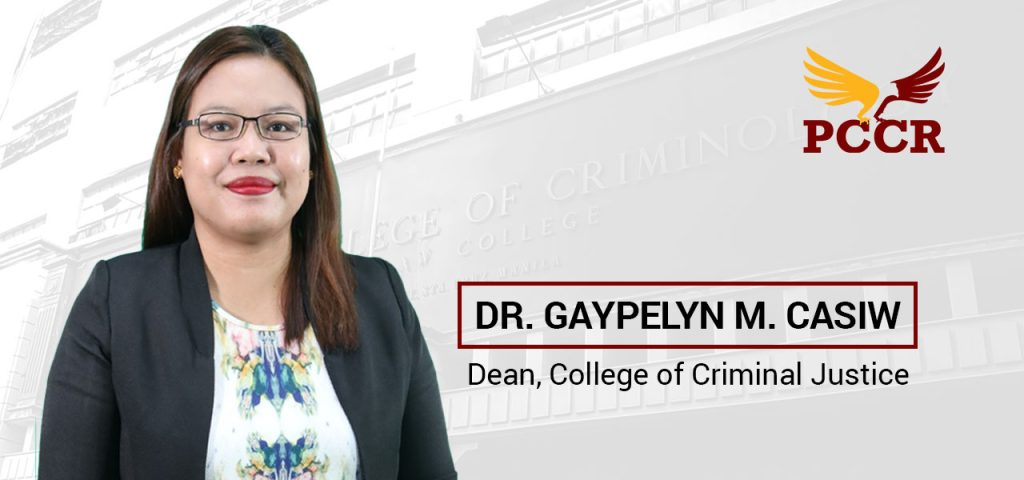 To further strengthen its Criminology program as well as its allied courses, Philippine College of Criminology (PCCR) College of Criminal Justice has appointed Dr. Gaypelyn Casiw as its new Dean. With over thirteen years as part of PCCR, Dean Casiw has been with the college through its highs and lows, and she looks forward to the rise and leadership of the institution. As a graduate of the Master of Science in Criminal Justice (2015) and Ph.D. in Criminology (2019) in PCCR, Gay (as she prefers to be called) is both emotionally and professionally invested in the college and its future.
Having started out as a Legal Researcher in the Supreme Court prior to joining PCCR, and also equipped with a Bachelor of Laws degree, she hopes to instill a culture of research in PCCR specializing in law enforcement and jurisprudence. Gay has received countless awards for research for PCCR in various disciplines since 2016, the latest one as Outstanding Criminology Researcher given at the 3rd Integrated National Convention for Criminology Educators and Professionals in 2022. Gay is also a member of the Research Committee for the Federation of Authors in Criminology and Criminal Justice Inc. (FACCI).
In her lengthy tenure at PCCR, she served in different academic and administrative positions, even during the transition in leadership and the COVID-19 global health crisis. Among these were Area Chairperson for Criminal Law and Jurisprudence, Area Chairperson for Crime Sociology and Ethics, Program Chair for Criminology, Associate Dean, and now Dean of the College of Criminal Justice. Gay also serves as the advisor to the Criminal Justice Student Organization, which serves as the breeding ground for the Topnotchers of the Criminologists Licensure Examination from PCCR. For her outstanding contribution in the discipline, she was awarded by PCCR during the Gawad Parangal for Employees in 2019.
Now, as CCJ Dean, Gay looks toward a great and promising future for PCCR. Aside from the introduction of the new allied courses (Bachelor of Forensic Science and BS Industrial Security Management), she envisions the establishment of state-of-the-art digital laboratories for the Criminology program. With Criminalistics being the heart of Criminology, she believes that these laboratories will be the prime differentiator, allowing PCCR to truly be the leading school for Criminology in the country.
With her firm resolve as one of the elite women leaders in a male-dominated profession and program, she believes that it is her commitment and dedication to PCCR that will serve to move the programs onward, forward, and upward.