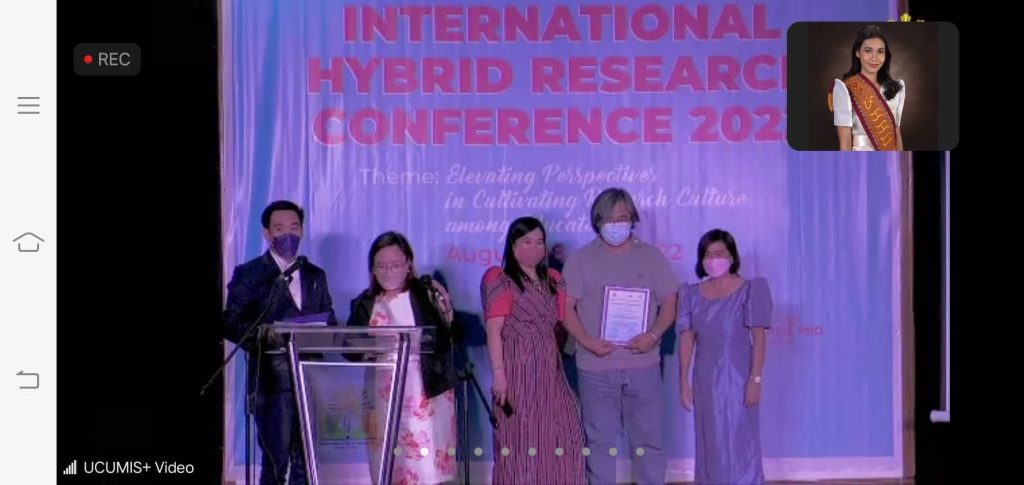 Bannering the core values of Leadership and Excellence in Research, a contingent front Philippine College of Criminology (PCCR) recently brought fame and recognition to the school with their achievements in the Urdaneta City University International Research Conference 2022. Co-convened by The New College of Chennai India, the University of Technology and Applied Sciences at Shinas, Oman, and the Chetan Business School in Hubli, India, the event also featured presenters from China, India, and Dubai. 
Making up the team of winners were PCCR Research Department Head Joseph Porfirio Andaya (Best Paper/Presenter for his study, "De-abstracting Constructed Spatiality: Integrating the Indigenous in Planning a City of Difference."), General Education Professor Ardeliza Caburnay (1st Runner-up for Best Paper/Presenter : "Analyzing the Culture of Teachers' Borrowing Performance as Basis for Establishing a Financial Stability Plan in the Midst of Covid-19,"), and the team of Jowelyn Jade Galima, James Patrick Suba, Rose Ann Batarlo, and Keith Lexer Magno ( Best Student Paper/Presenter, "PCCR Students' Perceptions of the Effectiveness of Hard Lockdowns as Police Policy During the First Surge of Pandemic.")
It was an exhilarating experience for the PCCR contingent as they were able to engage with the other researchers, foreign and Filipino, at the conference. They encountered new research methodologies and were introduced to cutting-edge statistical techniques.
Completing The PCCR contingent to the conference were :
Students

Arman R. Bibiolata, Jr., Novilla Cruz, Karl Lenin Olegario, and Jasper Jamil B. dela Cruz, "Toward Criminological Laboratory Innovations: Learning from the Students Online Lived Experiences in Forensic Chemistry and Toxicology."

Faculty

Remmark Corpuz and Rhem Rick Corpuz, "Job Satisfaction and Perceived Organizational Support as Related with Turnover Intention among Security Personnel in Private Security Agencies in Angeles City."
Jezreel B. Vicente and Rhem Rick Corpuz, "Enforcement of Fire Safety Inspection Regulations in a Highly Urbanized City."
Imelda C. Runas, John Paul P. Lomas-e, and Candido M. Perez, "Reinvigorating Student Research through LMS Innovations: The PCCR-APEX Model."
The conference featured academic papers of researchers from various universities in the Philippines and abroad, including academic deans, lecturers, and professors as presentors from Philippine Military Academy, Saint Louis University of Baguio City, the Mountain Province State Polytechnic College of Bontoc, Mt. Province, the Benguet State University at La Trinidad, Benguet, the De La Salle University, and the Piaz National High School of Villasis, Pangasinan, Shandong Women's University (China), the University of Buea (Cameroon) and the University of Technology and Applied Science (Oman).
With this notch in the team's belt, PCCR Researchers are getting attention not just locally, but internationally as well. This achievement paves the way for the PCCR International Criminological Research Conference set for December 2022, a hybrid international research event.