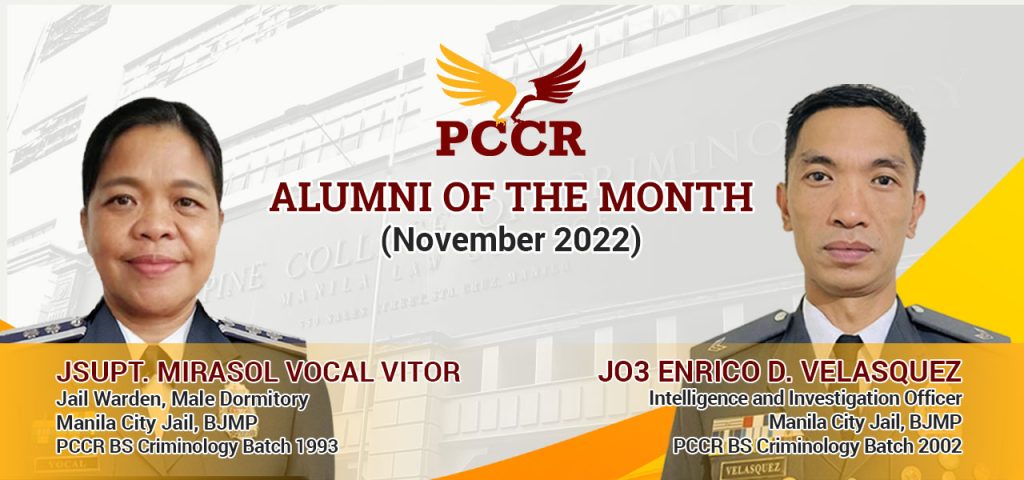 A testament to the Leadership and Excellence displayed by Batang 641 graduates in their chosen field, Philippine College of Criminology features two exemplary alumni for the month of November – Manila City Jail (MCJ) Male Dormitory Warden JSupt. Marisol Vocal-Vitor, DSC (BS Crim '93), and MCJ Male Dormitory Deputy for Intelligence JO3 Enrico Velasquez (BS Crim '02). Both Warden Vitor and Deputy Velasquez have been instrumental in the development of the Persons Deprived of Liberty (PDL) in the "old Bilibid Prison" facility, and the transformation of the complex into a Center for Character Development.
As the first female Batang 641 graduate of the Philippine National Police Academy (Class Kapanalig 1997), Warden Vitor has had over twenty eight years of service and leadership at the Bureau of Jail Management and Penology (BJMP) in a male-dominated profession, proving that it's not about one's gender, but about skill and values. With over sixteen years of service and leadership at the BJMP, Deputy Velasquez has also made a name for himself in the areas of Marksmanship and Intelligence.
With their coordinated leadership and administration in the MCJ, both Warden Vitor and Deputy Velasquez have served to provide a transformative experience for the PDLs under their watch. Among the most effective programs is the PDL Restoration and Education Program (PREP), which helps to better rehabilitate the concerned PDLs and equips them with necessary skills and knowledge toward transformation and progress upon their release.